Episodes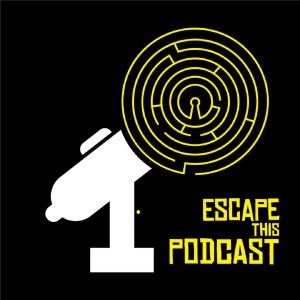 Wednesday Jan 29, 2020
Wednesday Jan 29, 2020
You're living in the wrong timeline! After discovering that his assistant Greg had damaged the true sequence of history, Doc Bill has no choice but to turn to his students and see if they can fix these chronological anomalies...
Our guests this episode are the Room Escape Artists, Lisa and David Spira! The Spiras are pillars of the escape room community and you should be following everything they do!

Website: https://roomescapeartist.com/
Twitter: https://twitter.com/RoomEscapeArt
Facebook: https://www.facebook.com/roomescapeartist/

And check out their conference in Boston! RECON

Escape This Podcast is sponsored by Buzzshot! If you want your customers to have a meaningful singup experience, get more reviews, and manage your player statistics, then you should go and get 80% off your first month at :http://buzzshot.co/escapethispodcast 
You can download the full notes for this Escape Room below to play along, or run a game yourself!
Full Room Write Up
Supplemental: Diagram

Check out our second podcast, Solve This Murder!
Website || iTunes || Twitter || Instagram || Facebook || RSS
Follow us on Twitch!

Check out our guest podcast with On In Five

We have bonus episodes and playtests up on our Patreon! So if you have the ability to support the show, we would love to see you there. And in return we have blog posts, bonus audio, badges, and more! Plus all our patrons have the chance to appear in our rooms as NPC's, including this room's patrons: Greg Harezlak and Julia Morris!


Have questions, comments, puzzles, or anything else? Send us an email, and follow us on Facebook and Twitter.
Our theme song for this arc is "The Land of Pirates" by Alexander Nakarada. The song is licensed under creative commons by attribution and can be found here