Episodes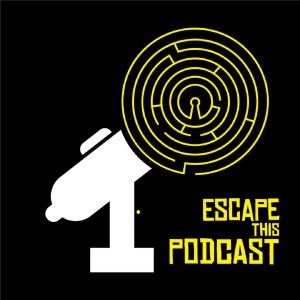 Wednesday Jun 05, 2019
Wednesday Jun 05, 2019
Descent of the Cullodens concludes. In our final escape room for the season, our Cullodens discover the truth of Michelle's past, and our story comes to a close.
We're joined this episode by Kyle Akers and Brandon Boone. Kyle is a voice actor and Brandon a composer for the No Sleep Podcast. No Sleep is a horror storytelling podcast which you should listen to immediately.

No Sleep:
Website - https://www.thenosleeppodcast.com/
Twitter - https://twitter.com/NosleepPodcast
Facebook - https://www.facebook.com/NosleepPodcast
You can download the full notes for this Escape Room below to play along, or run a game yourself!
Full Room Write Up


For everything Escape This Podcast, head to https://www.consumethismedia.com/escape-this-podcast

To hang out with us and other fans, join our discord here: https://discord.gg/AH9MZqM 
Check out our second podcast, Solve This Murder!
Website || iTunes || Twitter || Instagram || Facebook || RSS
Follow us on Twitch!
We have bonus episodes and playtests up on our Patreon! So if you have the ability to support the show, we would love to see you there. And in return we have blog posts, bonus audio, badges, and more! Plus all our patrons have the chance to appear in our rooms, such as this arc's featured patron: Michelle Shepardson.
Check out James Spaid's fantastic text-based adventure versions of our rooms!

Have questions, comments, puzzles, or anything else? Send us an email, and follow us on facebook and twitter.
Our theme music is Ghost Dance by Kevin MacLeod
Narration performed by Atticus Jackson
Narration music was Bach's Cello Suite no. 5 performed by Colin Carr
Outro music is Tender Moment by John Bartman