Episodes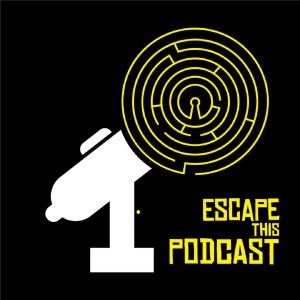 Wednesday Feb 27, 2019
Wednesday Feb 27, 2019
The journey through the manor continues in Escape This Podcast: Descent of the Cullodens! This is chapter 3 of 10 as new guests join us and continue the quest into the growing mystery of Culloden Manor.

A third set of descendants enter the house, finding an open door leading into a ruined kitchen, they continue on into the old mansion. They soon find themselves the recipients of a less than warm welcome, and a phone call received too late! They are trapped in the game room, but they are most definitely not alone...
We're joined this episode by former Jeopardy contestants Lee DiGeorge, Amy Williamson and Alistair Bell.
You can download the full notes for this Escape Room below to play along, or run a game yourself!
Full Room Write Up
For everything Escape This Podcast, head to https://www.consumethismedia.com/escape-this-podcast

To hang out with us and other fans, join our discord here: https://discord.gg/AH9MZqM 
Check out our second podcast, Solve This Murder!
Website || iTunes || Twitter || Instagram || Facebook || RSS
Follow us on Twitch!
We have bonus episodes up on our Patreon! So if you have the ability to support the show, we would love to see you there. And in return we have blog posts, bonus murder-mystery episodes, badges, and more! Plus all our patrons have the chance to appear in our rooms, such as today's featured patron: Philip Ho.
Check out James Spaid's fantastic text-based adventure versions of our rooms!

Have questions, comments, puzzles, or anything else? Send us an email, and follow us on facebook and twitter.
Our theme music is Ghost Dance by Kevin MacLeod