Episodes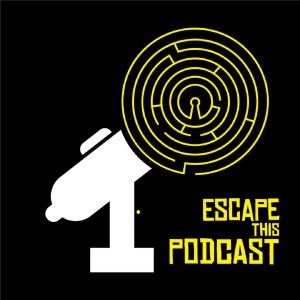 Wednesday Oct 23, 2019
Wednesday Oct 23, 2019
We are joined this episode by another fantastic guest game-master and puzzle designer, Jim Fishwick. Jim has designed a fun, meta take on the Escape This Podcast format, featuring a recording booth, riddles, and a ghostly conundrum.
Jim Fishwick is the general manager of Jetpack Theatre, and director of the recent "Art Heist" escape-room-esque event in Sydney. It's easy to find out more about Jim, just check out http://jimfishwick.com/
You can download the full notes for this Escape Room below to play along, or run a game yourself!
Full Room Write Up
Clip 1 - Jules
Clip 2 - Vanessa Von Trapp
Clip 3 - Timber
Clip 4 - Engineer
Clip 5 - New Project
Clip 6 - Keith's Cousin
Clip 7 - Summer Breeze
Clip 8 - Town Historian

3D Escape Room: Frequency

We have bonus episodes and playtests up on our Patreon! So if you have the ability to support the show, we would love to see you there. And in return we have blog posts, bonus audio, badges, and more! Plus all our patrons have the chance to appear in our rooms as  NPC's
Check out James Spaid's fantastic text-based adventure versions of our rooms!

Have questions, comments, puzzles, or anything else? Send us an email, and follow us on Facebook and Twitter.