Episodes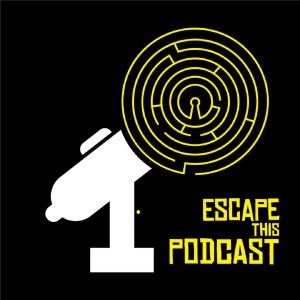 Wednesday Nov 27, 2019
Wednesday Nov 27, 2019
Dungeons and Dragons can be a very difficult game, especially when you're trapped in the fantasy world of an angry DM! Can our guests solve puzzles, complete quests, and return to the real world?
Our guests this episode are Freddie Wong, Beth May, and Will Campos from the fantastic podcast Dungeons and Daddies. Their show is a brilliant actual play podcast, so go listen to it now!
 
You can download the full notes for this Escape Room below to play along, or run a game yourself!
Full Room Write Up
Supplemental: Quests
Supplemental: Crossroads
Check out our second podcast, Solve This Murder!
Website || iTunes || Twitter || Instagram || Facebook || RSS
Follow us on Twitch!


We have bonus episodes and playtests up on our Patreon! So if you have the ability to support the show, we would love to see you there. And in return we have blog posts, bonus audio, badges, and more! Plus all our patrons have the chance to appear in our rooms as NPC's, including this room's patron: Chester!
Check out James Spaid's fantastic text-based adventure versions of our rooms!

Have questions, comments, puzzles, or anything else? Send us an email, and follow us on Facebook and Twitter.